MBO Cinemas is now in Subang Parade!
9:00:00 PM
Last night after dinner, me and family decided to visit the newly opened MBO Cinemas in Parade.



Awesome baybeh! We don't have to bother driving all the way to Sunway Pyramid or Summit for movies already. Dont have to make rounds looking for a parking space!
Since it was a random plan, we didn't have any movies on mind, so we bought anything that would start soon : nasi lemak 2.0. It was a 1 Malaysia movie, directed by that guy who did that 'negaraku, negara kuku' youtube video. Such a creative director indeed.
Anyways, back to cinema, the seats were really comfortable with spacious leg space. Everything else was pretty normal. Funny because at the end of the movie, everyone stood up and looked at each other, clueless on the exit door. But we managed :)
MBO Cinemas now have a promotion in conjunction with their opening week. Bring in any canned food in exchange for a past blockbuster movie ticket. One of the blockbuster movies shown yesterday was X-Men.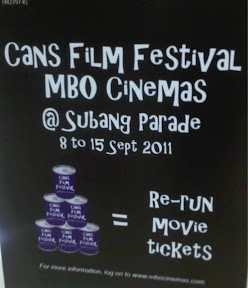 Some of the canned food given by customers in exchange for a movie ticket.
For further info, check out
MBO Cinemas website
.
Other related posts:
-Posted using BlogPress from my iPad